I have to admit, furniture transformations are one of my favorite things. I love picking up sad little pieces and turning them into something amazing, or at least amazing to me. The master bedroom in current home is much larger than our old bedroom, and I was really having a tough time finding nightstands or chests to accurately fit the scale. Let me backtrack, I could find them, but I could not afford them 🙂 I came across these two ugly sewing cabinets which were intended to hold patterns, even with an industrial lock on the exterior. Ben, the hubs, absolutely thought I had lost it when I came home with a pair of these.
I headed up to Home Depot and got the only can of oil based "oops" paint they had, which happened to be this gorgeous seal grey. I had been dreaming of Carrie's dresser from SATC2 and thought this would be my attempt at something similar. I always have black and white paint laying around, so as soon as the grey was dry, I started taping.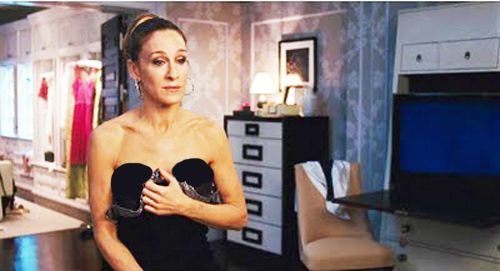 A couple of hours later, and one trip to Elliott's (The worlds best hardware store). We had a pair of these flanking our bed. I absolutely love how they turned out and especially love the storage!
Do you have a favorite project or transformation that would inspire other readers? Email us pics at gypsysoulinteriors@gmail.com. We'd love to showcase your work!
Kristen